"It was my 3rd year with chef Oonagh and as always she is amazing, kind, caring, and a great chef. There not enough good things I could say about her!"
– 2018 student David from Long Island, NY (cooking camp alumni)
"I liked that everyone got a chance to do everything and that we could suggest things to do!"
– 2018 student Maya from Connecticut (cooking camp alumni)
About Our Students:
Our students have a passion for food.  Some have experience cooking, some don't.  Some are quiet and shy, some are more outgoing…. the one requirement to be excited about this program is to love food!
Age Distribution:  We accept students from age 12 to 17.  We have boys and girls of each age represented, so no matter how old your student is, there should be many others around the same age!
Gender Distribution:  We are fairly even, about 50/50, with boys and girls.
Geographic Distribution:  We have students from almost all 50 US States as well as up to 20-30% of our population can be International students; we have had kids from Korea, France, Spain, China, England, Switzerland, Dominican Republic, Costa Rica, Brazil, and many more.
Skill Distribution:  As you can see below.  We have had some of our cooking camp alumni go on to win some TV show competitions and do other amazing things!  We have also accepted students who literally cannot make pasta yet.  We take any level of student skill and we rock at exactly your pace.  Join us and one day you will also be a cooking camp alumni member!
Career Paths:
Student Info:  Cooking Camp Alumni and more about campusNYC
2018:  Here is what a mom wrote about her daughter on her enrollment who is returning for a second summer (2018).  We really like this because it says a lot about the kind of kids we have at campusNYC and their passion:
"She came to live with us when she was 8 yrs old. She was a finicky eater and would only eat cheese pizza, chicken nuggets and mac & cheese. It was quite heartbreaking to force her to eat something other but they actually thought she may be anemic due to the lack of iron in her diet.Eventually she caved in and even started to do some baking (mostly cookies and cakes out of a box, but it was a start). This was around 11 years old and now at 16 she is baking homemade bread, sauces from scratch, mastered the grill, and even has quite the palate. She will try everything at least once. My husband and I have been cooking for years and she has by far exceeded our knowledge of cooking. We have other children too and know the basic phases that kids go thru when they enjoy doing something, eventually it goes by the wayside. However, this is more than a phase with her and more adequate to say its a passion. Not many 16 year old girls, ask for a pasta maker for a gift. She attended last year and was put to the challenge and loved the program and New York!"
Alumni Update:  Sam Kanterman's episode aired on Chopped Junior May 16th.  He came very very close to winning but ended up in second place, getting Chopped on the dessert round.  Overall it was a cool experience and we are very proud of him!  Yay Sam!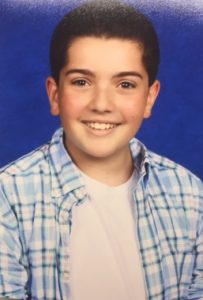 Sam K. is 14 years old and attends Harry B Thompson Middle School in Syosset, NY.  Sam enjoys acting, dancing, singing, and cooking.   Sam decided to enroll in Campus NYC to enhance his cooking skills. He is a natural performer who was cast as a competitor on Food Network's Chopped Junior.  
Other Alumni of campusNYC and CHOPPED JUNIOR:
Some of our students have gone on to do some amazing things.  We have two students (Hunter Zampa and Aidan Friedson) who both went on to win on two different seasons of Chopped, Jr on TV, which is just amazing.  Our body of cooking camp alumni from campusNYC is very cool and makes us very proud of our students!  
Other alumni have gone on to culinary schools, or work in fancy famous restaurants, etc. If you are a campusNYC alum and you have a cool story, email us!  See below for links to our Chopped kids etc.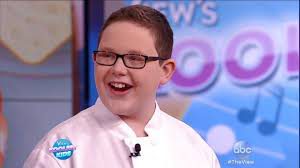 Check out Hunter's website right HERE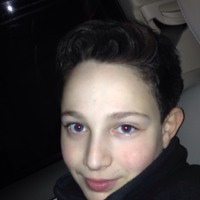 Read a cool interview with Aidan HERE
Interview with Zoe, campusNYC Alumni and her mom Kimberly:
From Zoe:
1 – when did you attend campusNYC?  How many summers?
For two summers 2014 and 2015…wish I had known about it earlier
2 – How did campusNYC help you become a better chef?
Having the campusNYC experience as made me a better chef in many ways. The key areas I notice within myself include being more calm in the kitchen. I also learned to keep my station clean and stay on task.
3- what was your favorite part of campusNYC?
Always learning new techniques and recipes is amazing but also meeting new friends that I still stay in touch with summers later, is the icing on the cake. 😉
 4 – what culinary schools did you apply to?
I applied to Johnson and Wales University and the Culinary Institute of America.
 5 – what was the application process like?
 The applications were long and it felt weird to brag about myself.
6 – tell us about the school you were accepted to and how you felt when you found out.
I was accepted into both schools. I felt like anything was possible. I got a call from Johnson and Wales right before I went to work, it made work that much better, I was looking forward to telling my family. When I got accepted into the Culinary Institute of America it was an even more memorable moment!
 7 – what are your plans for the future?
To one day own my own Food Truck business.
8 – what is your favorite thing to cook?
I love to bake. My favorite thing to bake would have to be fried or baked doughnuts.
9 – do you have any advice for future campusNYC students?
Have fun, work hard, possibly consider if you may or may not want to pursue cooking or baking as a career.  You will make a lot of friends, keep in touch with them. I'm happier I have been.
10 – will you come and visit us this summer and tell us all about it?
Absolutely, if I can. I would have to be notified about a time and place and for how long. It would be my pleasure to. 🙂
From Zoe's mom Kimberly:
1 – why did you choose to send Zoe to campusNYC in the first place?
Zoe has always had a love for cooking especially baking and pastry. When the camp she was supposed to work as a CIT and counselor shut down we researched if there were other opportunities in the summer. It was a no brainer that this experience would be perfect for Zoe, and being an overnight multi-week program was perfect. We only wished it were more than two weeks!
2 – how did you find us?
I had heard good things about your Chopped Junior Summer Camp experience and was so pleased to see there was a NYC camp as I surfed the internet.  
3 – were you happy with Zoe's experience at camp?
 This was the most fabulous experience for Zoe. We all felt welcomed as a campusNYC family from day one even before camp began. There was a warmth from the Director, counselors, campusNYC Chefs, campers, and the housing staff. The combination of a full day cooking agenda coupled with various after hours and weekend activities made for an extraordinary experience and memories!
4 – what was it like when Zoe got accepted to CIA?
 Everyone was so excited…I [her mom] screamed literally with joy! Zoe was accepted to all culinary schools she applied to. We couldn't have been more proud. Knowing Zoe is where she wants to be following her passion makes us extremely happy as parents, of course.
5 – any advice for parents with students who are thinking about culinary school?
Focus on the culinary school that is right for your child and don't listen to everything others tell you. Be sure to research other chefs and educators that are a part of the school. It is not necessarily about how many 'famous people' went to that school but more importantly how they prepare your child. Also very important is to understand how that school will start immediately preparing your child for the work force – internships and full time employment. Make certain that you prepare for the financials; it will be close to other private school costs so plan ahead.
6 – do you have any thoughts for other parents thinking about sending their child to campusNYC?
If you can afford to do it – sign up now! It will be the best gift for your child. I highly recommend the full overnight experience – campers get to know one another, have a real collegiate experience, and spend more quality time with everyone.
Thanks to Zoe and Kimberly and good luck at culinary school!  We will post more of these interviews as we receive them from our former students so check back!  
Interview with Caylee (student) and Caron (mom) to the same questions:
Caylee answered:
I attended the camp the summer of 2016 for 2 weeks.
The camp helped me become a better chef by giving me basic kitchen knowledge, how a professional kitchen is run, and how to work well with others.
My favorite part of camp was every part of camp! The classes each day were a blast. I met many kids from all over the world, and I made two really great friends that's I still talk with a lot! (Shout out to Josh B. and Sarah F.!) Going out and exploring the city with counselors and friends was an awesome experience! By far my favorite was the Broadway play we saw! I'm such a theatre freak so it was great that the camp added that to our activities!
I currently work at Cate Street Seafood Station in Hammond Louisiana, I was hired for my knowledge of the kitchen, and skills to work with chefs, which I learned at camp. If I had not attended camp my first days on the job would've been a lot harder on me and my coworkers.
I think 4 answered that
My current plans are to attend the Institute of Culinary Education in New York City for a certificate in baking and pastry arts, after that I hope to intern at Disney World and become a pastry chef at a Disney restaurant. Only God knows my future I trust that he will guide me in the right direction.
My advice for all future campusNYC students is to COME! This camp is the most amazing program on the entire planet, Lindsay and the staff are the sweetest and most awesome people you'll ever have the privilege of meeting. At this camp you will learn a lot you don't know whether you consider yourself already a chef, or if you've never even cut up an onion. Just come prepared to have the time of your life!
Caron said:
Q: Why did we send Caylee to Campus NYC and how did we find it?
A: Caylee was interested in a summer culinary camp to help her decide if culinary was something she wanted to pursue in her future. She literally stumbled upon the campusNYC website.
We were very pleased with Caylee's experience at campusNYC, she learned so much from the time spent in the kitchen. She also made wonderful friendships. The time spent touring NYC was so exciting for her and now she plans to return for another session and possibly attend culinary school in New York City.