2023 campusNYC


Culinary Camp in New York City

Summer Culinary has developed the world's premier culinary arts summer cooking camp and campusNYC is our oldest flagship location. Located in the heart of NYC, our culinary summer camp has both day, and residential (sleepaway) programs designed to bring students together in a safe supportive environment.  Now entering our 15th summer! 

Our program is second to none. We work in the single best kitchen in NYC and that is saying a lot. Most of our chef instructors return year after year because it is so fun… and transformative. We feature numerous in-kitchen demos, special guests, and lots of time cooking a multitude of recipes from scratch. All you need to love of food! All skill levels accepted!

campusNYC was completely sold out in Summer 2023, 2022 and 2021.
Why campusNYC? Pro kitchens. Pro chefs. What really makes campusNYC culinary summer cooking camp the best is our culture and our community. See why we are sold out every year!
Pro Kitchen: Cooking Camp in the Lower Manhattan
Our kitchen is located at the Institute For Culinary Education, in Brookfield Place, across from Ground Zero and the trains at the Oculus and the area. This premier facility is by far the best kitchen in NYC. We have 3 big kitchens, with big glass windows overlooking the river. We are very excited about this kitchen: professional, fully-equipped, spacious, clean, bright and centrally located.
Our kitchen address is: 225 Liberty Street, New York NY 10281
Summer Culinary has developed the world's premier culinary arts summer camp in New York City because NYC is the heart of the foodie world. So we can create recipes during the day, and then go sample them from the source that evening! Like Dim Sum, followed by a tour of Chinatown. Or lasagna and beignets, followed by a trip through Little Italy and Soho. Literally every kind of food is available throughout NYC and in our kitchen and in our excursions we intend to try out as much as we can. In the kitchen we cook recipes – from scratch – from around the world. The opportunities are literally endless when you talk about cooking and sampling food in NYC!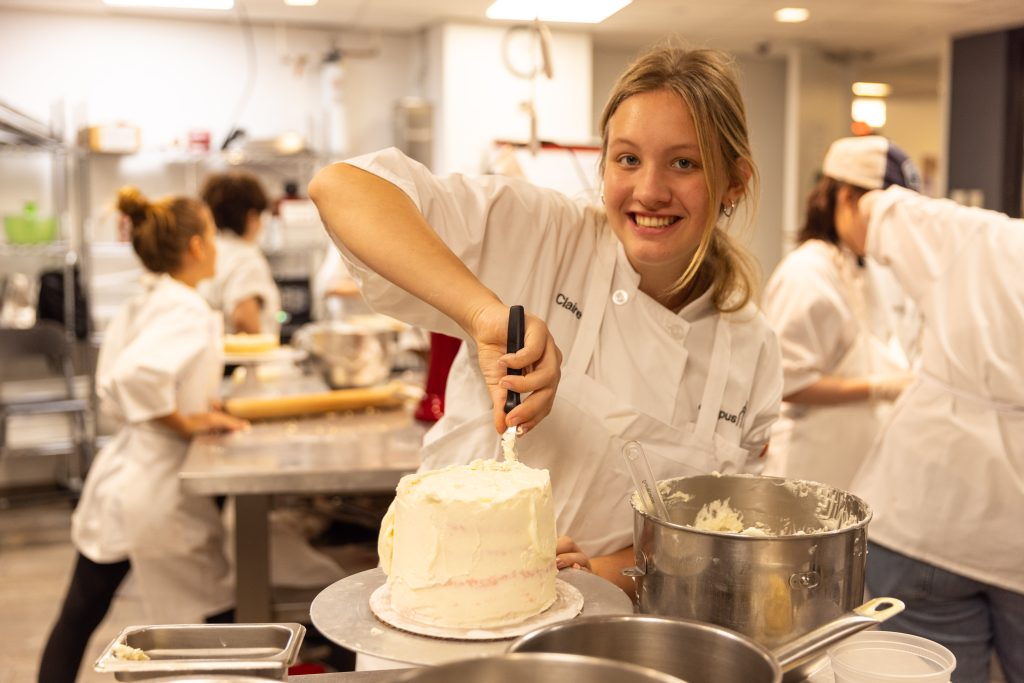 Cooking Camp: Sleepaway or Day Options Available
Sleepaway: Our residential cooking camp students live in a new, fabulous luxury student housing building located just two stops away from the kitchen, with a door to door journey of just 14 minutes!
Our building features swipe card access, a staffed 24/7 front desk, and tons of hang-out space. This year we will be staying in a residence hall in Jersey City, part of Alliance University, and you can click HERE for more information on the dormitory and residence hall. Staff rooms are sprinkled in among the students. Students are paired with roommates with same gender. Our Program Director, Resident Life Director, Health Director and Resident Assistants also live in the dorm for 24 hour supervision.
Commuter: Day students attend the cooking camp in the kitchen from 10am – 6pm. There is one of our directors posted up to meet the students as they arrive and check them in.
Here are a few pictures of the residence hall: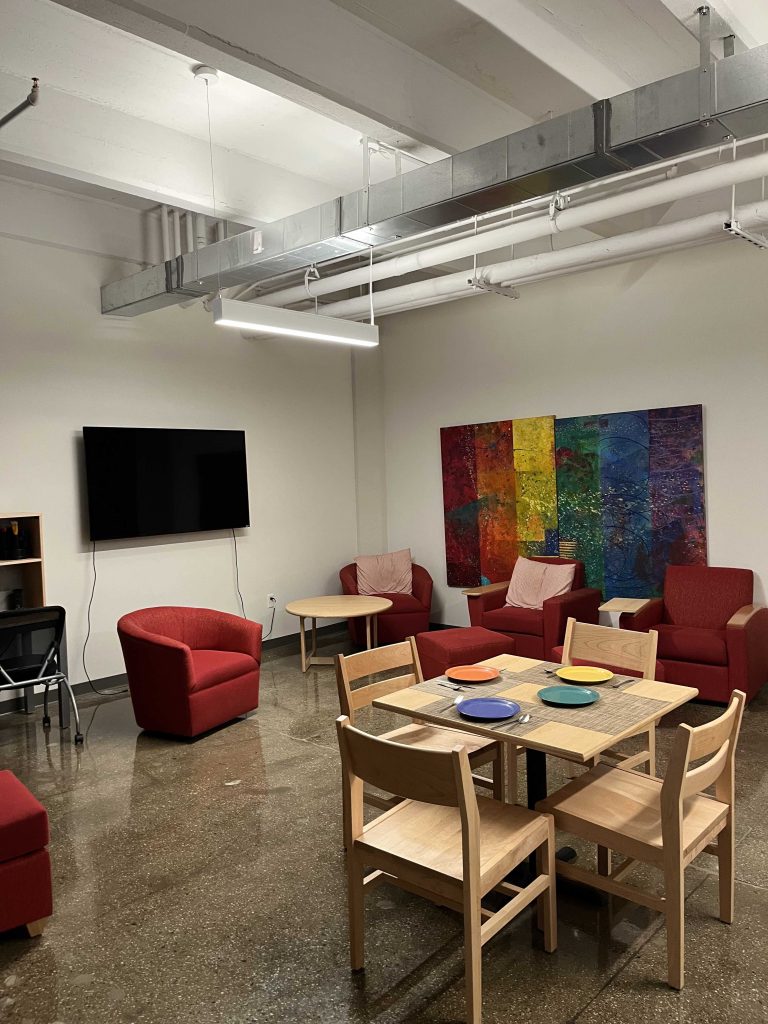 Want to be the next masterchef?
All skill levels are accepted
Many of our culinary camp students are newbies, fresh, and they aren't mad experienced in the kitchen. They just love to cook. Which is great because they haven't learned any bad habits! All that is required of our students, that they love to cook and love food and all of that. We have and accept all skill levels.
We have also had students who have gone on to with MasterChef Junior and Chopped Junior (they have even come to scout students for on-air talent at camp!). So no matter where you are we will challenge you!
We have 5 graduates competing on The Kid's Baking Championship on the Food Network right now! Here is information on the show: campusNYC Alums On TV HERE.
Ages accepted
We accept students from ages 12 – 17 years of age. And we have students of each age attending our program, from 12-year old students to 17-year old students, and each age in between. Our program will have enough of each age represented, so your student will be able to make friends and hang out with similar-aged students. So for kids coming out of middle school, to all rising grades in high school, we have them all. There is somebody just your age waiting to be your new bestie right at campusNYC every session! Find your people, right here.
Concentration: Choose Either Savory or Pastry Cooking Camp
At campusNYC students can pick between PASTRY or SAVORY as their concentration. Students who are more interested in baking, sweets, pastries and desserts can pick pastry / baking summer camp as their concentration, and students who are interested more in appetizers and entrees can pick savory.
Baking camp students work with real, professional-level equipment like giant mixers and speed racks to up their game, trying out recipes like fruit tarts, creme brulee, all sorts of cakes, macarons, pies and other delicious treats all from scratch. And we take special care to dive into the world of glazes, sauces, and handmade frosting.
Savory students work in the world of entrees and appetizers. Each meal plan and recipe set we go through each day includes a paired appetizer and entree, which is made by each student. So for Thai day, for example, we could pair mini shrimp lettuce wraps or chicken stay as appetizers plus pad thai or crispy Thai BBQ ribs as the entrees. Sounds delicious right?
All students are trained in how to plate their food (make it look awesome when served). And all students work with the chefs to develop their skills beyond plating, starting with knife skills and knife training. And we look at safety, sanitation and clean stations, and much more.
Hear from Our Families
"My son had an AMAZING experience with campusNYC culinary camp. Not only did he improve his cooking skills, but he also had opportunities to develop his independence and team working skills and he created memories I'm sure will last a lifetime. On his last day he was already planning for next summer. Great camp experience, we'll absolutely be back next summer!"

– 2021 Parent
This camp changed my son's life for the better. He was able to find a community of adults and students that shared the same passion he had for cooking and food. Everyone was so welcoming and supportive. Not only did they have a great time in the kitchen and learning, but did fun activities in the evening to bond and create an inclusive environment. He did 1 week of camp in ATX and already wants to go back for 2 weeks next year…and maybe even travel to NYC or LA!"

– 2022 Parent
"My favorite thing about campusNYC was learning more about cooking and having people around me that also felt the same way."

– Audrey, Houston, TX, age 15, 2019 student
"My favorite thing about campusNYC? Everything; I think it's a combination of the people, the chefs and the counselors."

– Nikki, Miami FL, age 14, 2019 student
"My favorite part of being a residential student was having a roommate, hanging in the dorm, sometimes watching food network, and connecting." –

– Amanda, age 16, 2021 student
"I appreciate you guys so much! Thank you for making me feel happy and as comfortable as possible. I came into the experience unsure but I left feeling fulfilled and supported. I am grateful for your generosity and kindness and this fun and positive experience all happened thanks to you."

– Sean, 2022 student
References always available. Simply contact us.