What are you doing about COVID? Does my child need to be vaccinated to attend campusNYC?
Yes, your child needs to be vaccinated to attend campusNYC; it is required by our main venues as well.
What makes campusNYC (or any Summer Culinary location) different than any other program?
Culture, kitchen, and chefs.  Our culture of foodie excellence is amazingly fun and awesome.  And it is our professional teaching kitchens and pro chefs that make the difference while students are in the kitchen all day.  Ask any other program where they cook, what they are using to prepare food, what recipes they make and who are the instructors… we literally hear stories like "Jake used a hot plate!  A hot plate is all they had!  In a regular school classroom! And they made pre-made pizza and that was it for the day!  Help!"  Don't make the same mistake Jake's parents made!!!  We got you.
What makes campusNYC different from other Summer Culinary locations?
At campusNYC students can pick a concentration: pastry or savory. In all other locations the curriculum is combined into one fabulous journey.
I love cooking, but Im not good enough to win Masterchef Junior or Chopped like some of your students have done. Is this program too advanced for me?
No not at all. We accept all skill levels. Many of our students are newbies, fresh, and they aren't mad experienced in the kitchen. They just love to cook. That is all that is required of our students, that they love to cook and love food and all of that. We have and accept all skill levels. We divide up the cooking class nyc into small subsets and groups so each set of students can be challenged and learn at their own ability.
Why do you offer a concentration in pastry or savory? What does that mean?
Popular demand. At campusNYC students can pick between PASTRY and SAVORY as their concentration. Students will still learn skills in both subsets during the course of their stay with us, but this way students who are more interested in desserts can pick pastry as their concentration, and students who are interested more in appetizers and entrees can pick savory. Both groups will still get classwork in kitchen safety, skill-building and more. This choice of concentration simply helps us give the students the kind of focus the students are asking for.
Is the program safe? How do you keep the kids safe when you travel around town? Are there chaperones?
Student safety is our number one concern. Most of our students come from outside the City and have limited experience in NYC. So we stick to them like glue! Everywhere we go in the City, at all times, chaperones who live here and know the City are with the students every step of the way. On the first afternoon we do a dry run, taking the subway together, and we go over the process and procedure for how we travel in a group in great detail with the students. In the end it comes down to staying smart, staying together, keeping our eyes open and our ears clear of headphones etc. While we can never 100% guarantee anything, we 100% do our very best to ensure that safety remain our top top priority! Our cooking classnyc based programming is fun!
Who will my roommate be? What is my room like? Is the dorm nice?
Roommates are matched by age and geography. Staff live on the same floors as students to provide maximum supervision. Each room comes equipped with beds, desks, wardrobes, air-conditioning, and a full ensuite bathroom. The building can only be accessed through the main front door, which is staffed 24 hours a day by security, and each entrant must show their ID card. The building is very high quality and features many TV lounges, computer labs, a sports fitness center, a high-end laundry, movie room, and much more.  Check out the dorm right HERE
I'm flying to campusNYC; can someone pick me up?
Yes! campusNYC offers airport pickup! A fee will apply for students who arrive and/or depart outside this window of time who want this service (we send two staffers two-ways for either pickup or dropoff) one- and two-way airport service from LGA and JFK airports. Staff members accompany students for the whole process as allowed by law; we can't go through security but we make sure to be in touch with families ahead of the arrival day to let them know who is doing the pick-up and send them the picture of the staffer doing the pickup. The staff will be wearing a campusNYC t-shirt and carrying a sign with the student's name. Please note we DO NOT offer pickup or dropoff at Newark International (EWR) airport. We offer pick-up/drop-off service ONLY from JFK and LGA (LaGuardia) airports.
Do international students attend this program?
In a typical year though, yes, as much as 25% of the program each year has been international. Students from Germany, Switzerland, France, Hong Kong, Japan, Russia and other places have all enjoyed a fabulous time at campusNYC. With COVID that changed, and we do expect inteernational students again this summer!
Should I bring spending money?
Yes! It is New York City, after all. There are times where you'll have the opportunity to shop, or get souvenirs, or snacks and such. Every family is different and we have an in-camp bank if you'd like to keep it safe and have some doled out from time to time. We recommend at least $200 and again every family is different.
Can I bring my cell phone or lap-top?
Cell phone, yes. Laptop, no. There will be a cell phone use policy detailed in your welcome pack; we do not want students on their phones in the kitchen and we collect them during cooking class nyc cooking times (and give them back in time to take pics of their creations of course). Lap-tops are not allowed.
How do I get my welcome pack?
Welcome pack pdf's are emailed to the family immediately upon registration at our premier summer cooking program. Nothing is ever sent through the USPS snail mail.
How well supervised are campusNYC students?
Safety is our top priority! We are living in NYC, and so we must keep our eye on our students at all times. Additional staff are hired as necessary during travel times, we have strict buddy-group rules, and we work closely with the students to bring them up to speed as to what is expected in terms of behavior and actions throughout the day. Nothing comes before student safety, in the kitchen, in the subway, on our trips, or anywhere else.
How old are campusNYC students?
Our student age range is quite diverse. We do have students of each age attending our program, from 12-year old students to 17-year old students, and each age in between. Our program will have enough of each age represented, so your student will be able to make friends and hang out with similar-aged students.
What if my student is vegetarian, vegan, keeps kosher or has food allergies?
No problem! We will substitute a different menu item to replace meat or animal by-products for those who do not want to learn to cook, prepare or eat those items. And of course we will watch out for food allergies! Just let us know. We will make any reasonable accommodation for our students, no worries. Kosher meals in our cooking class nyc are not provided but we can make efforts to connect to kosher food service as needed, please contact us to discuss.
Can I watch a video about the dorm in NYC?
Yes! You can see a cool video by clicking right here!
Do you have references?
Yes! Of course! Please contact us to get a family that matches your interest.
---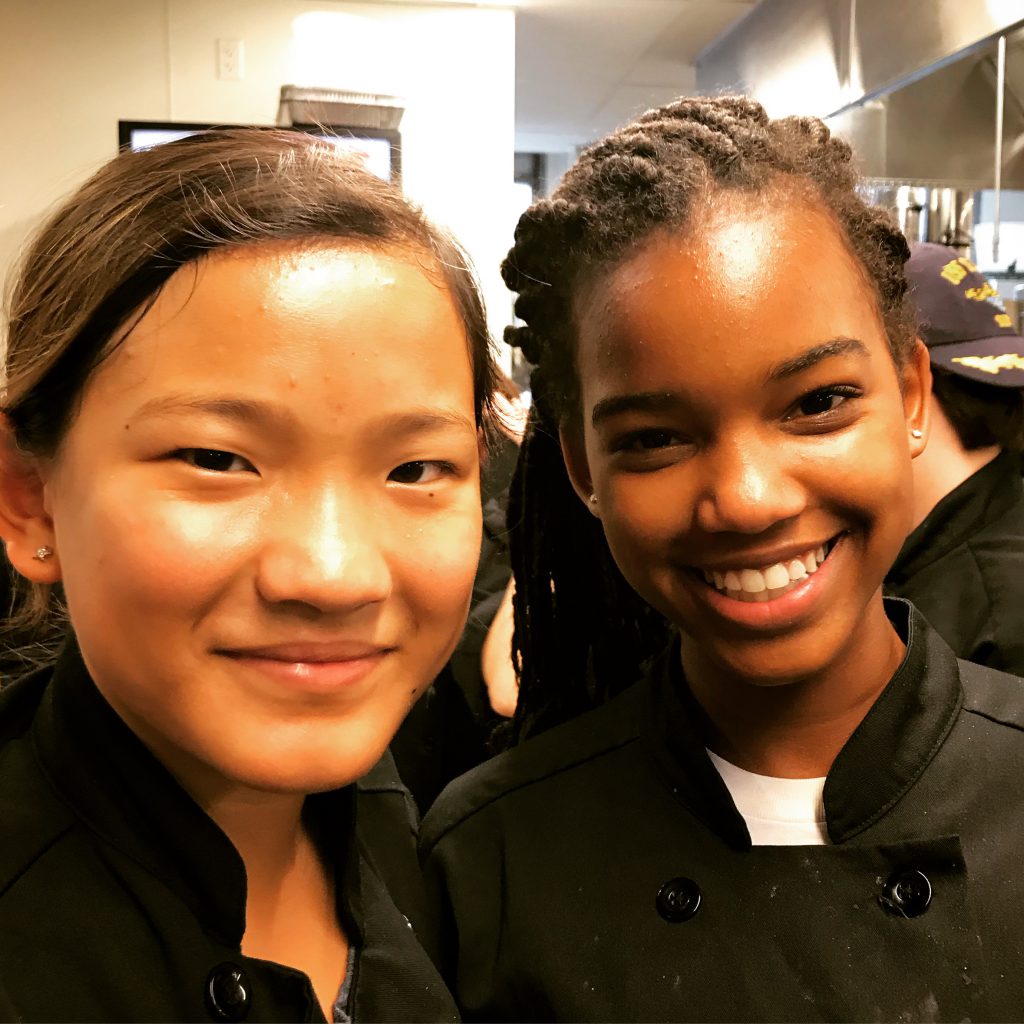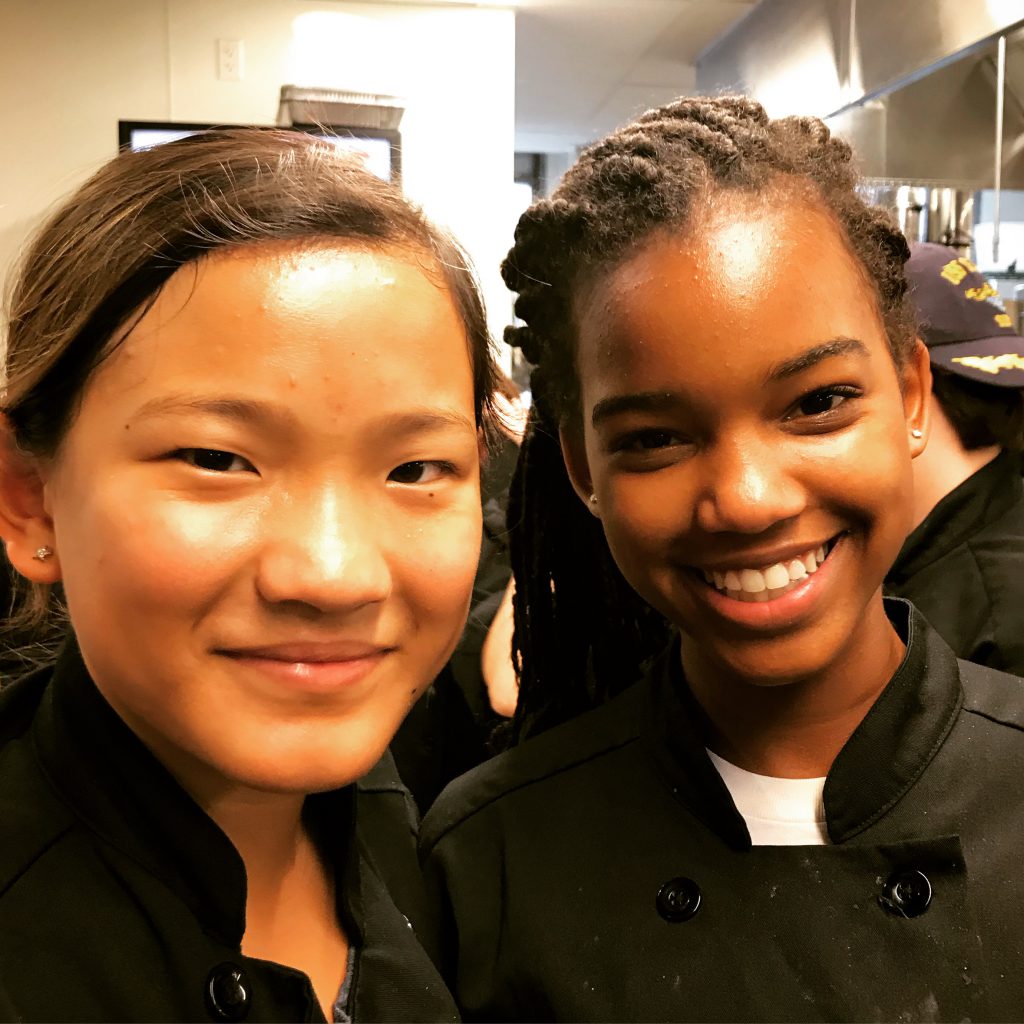 ---
"I love the fact that it felt like a real cooking camp rather than a camp that says "Today we are going to make chocolate chip cookies". There were real culinary skills being taught and learned." – Antoinnea, Bahamas, age 17, 2019 student
"My favorite thing about campusNYC was learning more about cooking and having people around me that also felt the same way." – Audrey, Houston, TX, age 15, 2019 student
"My favorite thing about campusNYC? Everything; I think it's a combination of the people, the chefs and the counselors." – Nikki, Miami FL, age 14, 2019 student