Meet two of our graduates:  Eli and Abbie
Eli: Graduate Profile
Meet Eli: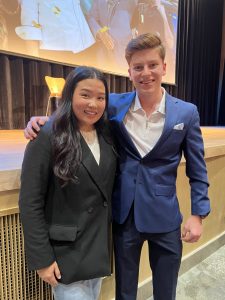 What is your relationship to cooking now?
It is my passion.
Are you still in touch with anybody from camp?
I attend the CIA with my roommate from camp!
In what ways did attending our program make a difference for you, anywhere in your life?
It solidified my desire to become a chef.  Getting to experience a sample of what life could be like in a real commercial kitchen energized me.  I love the teamwork, the fast pace, the creativity.
What are you up to now?
I am enrolled at The Culinary Institute of America.
Where are you headed in life?
I am on a journey to become a great chef!
Do you have a positive memory from camp you can share?
Exploring NYC!
Eli's mom shares her thoughts on Summer Culinary
Why did you choose to register in our program initially?
Eli had a passion for culinary and we were  looking for a reputable summer camp.
After camp, did you notice any breakthroughs your child may have had as a result of attending our program, academically, socially or in any other way?
He came back a bit more independent and loving the city life.  Academically, he enrolled in his high school's Culinary Arts program and started doing competitions.  He won several competitions between area high schools.  He placed second at TN SkillsUSA in 2022 and his team placed second in the 2021 TN Prostart Invitational and earned some scholarship money!
 In the last years since attending our program, can you see where our program has had any impact on their life?
It definitely helped him know that he wanted to pursue culinary arts. He also used one of the camp instructors as a reference on a job application at Husk Nashville.  He worked at Husk (a former Sean Brock restaurant), for one year (senior year of high school) and worked his way up from dishwasher to chef garde manger before leaving for college.
What is your student up to these days?
Eli is in his second semester at The Culinary Institute of American in Hyde Park, NY.
Does it relate to their work in our program?
YES!!!
What was their major in college, and if they have graduated, what are they up to now?
Culinary Arts (still in college)
Abbie: Graduate Profile
Here is Abbie and some of her creations!
Why did you choose to register in our program initially?
It was initially a surprise from my parents, but I've alway been interested in NYC and cooking.  The year I was enrolled in camp (2015), I was going into my freshmen year of high school. One night, my parents called me downstairs and sat me down at the kitchen table. When they revealed that they had enrolled me in camp, saying I was over the moon is putting it lightly. As a 14 year-old kid born and raised in CNY, growing up watching NYC on TV but never actually venturing downstate, it was a dream finally coming true. I was nervous, sure, but I was metaphorically shaking with anticipation, practically hyper fixating on what we'd do, where we'd go, etc.
What were you like before attending our program?
While I wasn't exactly a social butterfly, I did stick with my own little circle in middle school. I've dealt with horrible anxiety from a young age, so aside from mainly hanging out with that friend group, I really only talked to a few mutual friends and friendly acquaintances. Looking back on who I was before I went to camp, that anxiety mixed with my self-produced pressure to "fit in" made me quite an insecure, negative person. I don't think anyone is proud of who they were in their early teens, but I used humor to cope with how I felt/acted.
What did attending campusNYC make available to you in terms of personal growth and development?
For some reason, even at such a young age I reveled in the idea of a fresh start. New people, new introductions, a clean slate. On that first day, I was a little overstimulated from the start from meeting and conversing with a room full of people my age. But having that experience of introducing myself to people who are new to me, I felt like I could finally relax and be myself. I was still anxious, sure, but who wouldn't be in an unfamiliar new place with new faces? When it came time to cook, I slowly started to gain more and more confidence. It hit me that everyone there was like me – just trying to garner their cooking skills. It wasn't a competition, I wasn't better or worse than anyone. I was just there to learn new techniques, meet new people, and have fun. I've always learned significantly better hands-on, so being able to just jump into our daily tasks with the guidance of a gentle hand from the instructors, I soon relaxed and got more comfortable with myself, my surroundings, and my peers.
During or after camp, did you experience any breakthroughs in your life?  
I think being thrown into such a high social environment really helped me come out of my shell quite a bit. Other than that, camp really lit the spark of trying new recipes and techniques out, and thinking back on it now considering where I am, I'm so thankful for it.
A moment that just occurred to me that I really think made me a bit more social was when we got stuck on the subway. There was a power outage on the rail while we were on the train. Of course, being underground, there was no reception, so everyone in the car were just…talking. Camp members, chaperones, and strangers alike. Not the most exciting memory, but a breakthrough for me because at that time, the thought of being stuck with AND talking to strangers for a period of time made me want to cry. 
How did attending campusNYC impact your life?
Other than sparking my interest in cooking, attending camp really made me fall in love with NYC and city life in general. The energy of the city and a mesh of so many different cultures and people was something I wasn't used to growing up in Syracuse, so I immediately fell head over heels with it. My trips to NYC and my time living in Philly were some of the best and most exciting times of my life.
Leaving camp, I immediately jumped right back into marching band that summer. Being a newbie with no marching stamina whatsoever, I was a nervous wreck. But, just like at camp, spending so much time together and getting acquainted with soon-to-be fellow classmates helped me feel more comfortable and established than I typically would be prior to both band and camp.
What are you up to these days?
I'm currently working as the lead line cook at a Food Startup called SinBun! We're a ghost kitchen specializing in both sweet and savory gourmet buns, so we sell everything from a classic cinnamon roll to more complex buns like steak and cheese, BLT buns, and my recent addition; a créme brûlée bun. On top of that, I also run a small online shop on the side with my partner. Music is another major part of my life, so we sell all forms of media, such as vinyl, cassette, VHS, CDs, and so on. I love utilizing my interests and intertwining them into my work and daily life.
Did attending our program alter the course of your life in any way?
Although I didn't realize it at the time, I really think my time at camp was what got the ball rolling regarding my interest in cooking and baking. I initially wanted to go to culinary school after graduating, but as the years went on I bounced around what I wanted to do, finally deciding on Screenwriting and Digital Film Production. Now, four years later, I'm working full time innovating alongside the owners and helping a new business bloom.
What is your relationship to cooking now?
For the past 4-5 years, I've worked in a variety of kitchens, doing anything from pastry production to line work. I've worked at a few staples in my area, such as Dinosaur Bar-B-Que and Beak & Skiff. Because I'm in the kitchen so much, I've started cooking a little less. However, cooking is the center of my life and knowing people enjoy my cooking – from something as minor as a dressing to a complex entrée or dessert – really makes me proud of my progress and how far I've come.
Do you have a positive memory from camp you can share?
There's a lot of memories I look back on fondly, but I think overall my favorite was our day trip to Coney Island. Growing up in CNY, I'm nowhere near the ocean, so my only exposure to Coney Island was on TV. To say I was jumping in excitement was and understatement. I was literally the only one who wanted to actually be on the beach – everyone else went on rides – but just being able to spend the day in the water made my little heart swoon. Granted, I got the worst sunburn of my life (wear sunscreen!! And if you have none don't be like me and just ask for some) that affected my cooking abilities for a couple days afterwards, that was easily one of my favorite moments on the trip. 
In what ways did attending our program make a difference for you, anywhere in your life?
Overall, I think attending camp really made me a more sociable and adventurous person. From wandering the city and both tasting and cooking foods completely new to me, camp helped me take that leap, even if I wasn't aware of it until now.
What advice would you give a student thinking about coming to one of the Summer Culinary programs this summer?
On advice for myself all those years ago, I'd just say: Take a deep breath, loosen up, and don't overthink it. You're not inferior to your peers, everybody learns and adapts at their own pace. At that age, everyone is trying to figure themselves out, so just focus on yourself and your happiness, not how you're perceived. Respect the native New Yorkers and oh, wear sunscreen. At least BRING sunscreen, burns don't feel great under a chef coat.
See what our other grads accomplished after their summer culinary experience by clicking here:    Graduate Profiles