Meet the campusNYC Staff
The staff at campusNYC are what make the entire program so awesome!  For the 7th year in a row, Lindsay will be the Camp Director and can help you with any questions! We will be uploading new bios and pictures regularly, be sure to check back!
Lindsay- Camp Director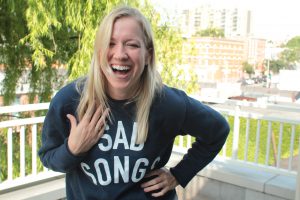 Hi! I'm Lindsay and I am the Director of campusNYC. I am originally from Detroit, Michigan and went to school for Television and Radio Broadcasting at Wayne State University. But, while living in Detroit and working in radio, I also ran a Teen Center for middle and high school students and that is how I fell in love with camp and the experiences that it provides for kids. From there I moved to Brooklyn for 10 years and completely immersed myself in the entire NYC scene.  I have worked full-time at campusNYC for many years and in acadmic summer camps for more than 12 years, because I love them so much!.  I really pour my heart and soul into the organization and overall concept of campusNYC, and I can't wait to share it with you! Oh…and taste all of your culinary masterpieces!
Here is the "All about campusNYC Video"