Update:  campusNYC graduates are on the Food Network's "Kids Baking Championship" this season!  % of our students are on this show this season! That is totally awesome.   Check it out
HERE.
Some of our students are talented enough to win TV competitions.  
Some of our students barely know how to make ramen.
Bo matter where you are, campusNYC will take you to the next level!  All skill levels are welcome.  
Hear more about it from our families:
"After attending the camp our son said he wanted to cook, then proceeded making an oxtail stew at home in one evening. It was absolutely delicious and we were blown away with his skills and creativity! We couldn't believe it was the same person who previously just made ramen." – 2022 Parent
"It was my 3rd year with chef Oonagh and as always she is amazing, kind, caring, and a great chef. There not enough good things I could say about her!"
– David (2018 student)
"You come to Summer Culinary to cook, but when you leave it's like leaving a family" – Bea (2022)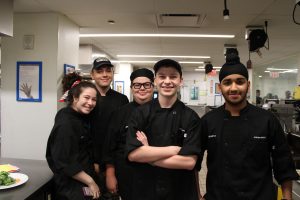 Our students have a passion for food.  Some have experience cooking, some don't.  Some are looking to apply to culinary school… or go to a culinary high school… and some can't make pasta when they arrive!  Some are quiet and shy, some are more outgoing…. the one requirement to be excited about this program is to love food!
Age Distribution:  We accept students from age 12 to 17.  We have boys and girls of each age represented, so no matter how old your student is, there should be many others around the same age!
Gender Distribution:  We are fairly even, about 50/50, with boys and girls.
Geographic Distribution:  We have had students from almost all 50 US States as well as up to 20-30% of our population can be International students; we have had kids from Korea, France, Spain, China, England, Switzerland, Dominican Republic, Costa Rica, Brazil, and many more.
Skill Distribution:  As you can see below.  We have had some of our cooking camp alumni go on to win some TV show competitions and do other amazing things!  We have also accepted students who literally cannot make pasta yet.  We take any level of student skill and we rock at exactly your pace.  Join us and one day you will also be a culinary high school alumni member!
Find Your People:  Our students are cut from the same cloth.  So, maybe even for the firtst time, they can connect and collaborate with like minded kids from literally all over the world.  The powerful friendships that are created at campusNYC have continued for years and years.  Literally.  We hear about and from kids from 10 years ago who still communicate, meet up, and work in the food industry.  
Alumni updates
Alumni Update:  Sam Kanterman's episode aired and he came very very close to winning but ended up in second place, getting Chopped on the dessert round.  Overall it was a cool experience and we are very proud of him!  Yay Sam!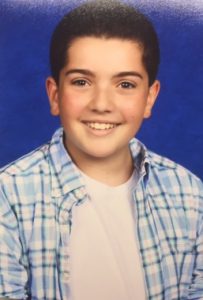 Sam K. is 14 years old and attends Harry B Thompson Middle School in Syosset, NY.  Sam enjoys acting, dancing, singing, and cooking.   Sam decided to enroll in campusNYC to enhance his cooking skills. He is a natural performer who was cast as a competitor on Food Network's Chopped Junior.  
Chopped Junior winners:
Two of our students (Hunter Zampa and Aidan Friedson) have won Chopped, Jr on TV, which is just amazing (see below).  Please do keep in mind all skill levels are accepted and you dont have to be this good to attend!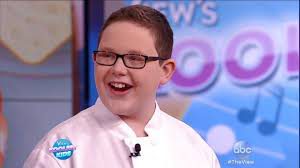 Check out Hunter's website right HERE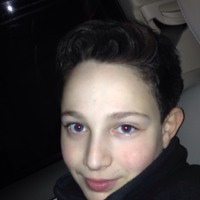 Read a cool interview with culinary high school student Aidan HERE
Student Profile:  Zoe
Interview with Zoe, campusNYC Alumni and her mom Kimberly:
From Zoe:
1 – When did you attend campusNYC?  How many summers?
For two summers 2014 and 2015… wish I had known about it earlier
2 – How did campusNYC help you become a better chef?
Having the campusNYC experience as made me a better chef in many ways. The key areas I notice within myself include being more calm in the kitchen. I also learned to keep my station clean and stay on task.
3- What was your favorite part of campusNYC?
Always learning new techniques and recipes is amazing but also meeting new friends that I still stay in touch with summers later, is the icing on the cake. 😉
 4 – what culinary schools did you apply to?
I applied to Johnson and Wales University and the Culinary Institute of America.
 5 – What was the application process like?
 The applications were long and it felt weird to brag about myself.
6 – tell us about the school you were accepted to and how you felt when you found out.
I was accepted into both schools. I felt like anything was possible. I got a call from Johnson and Wales right before I went to work, it made work that much better, I was looking forward to telling my family. When I got accepted into the Culinary Institute of America it was an even more memorable moment!
 7 – What are your plans for the future?
To one day own my own Food Truck business.
8 – What is your favorite thing to cook?
I love to bake. My favorite thing to bake would have to be fried or baked doughnuts.
9 – Do you have any advice for future campusNYC students?
Have fun, work hard, possibly consider if you may or may not want to pursue cooking or baking as a career.  You will make a lot of friends, keep in touch with them. I'm happier I have been. – Zoe, culinary high school student
From Zoe's mom Kimberly:
1 – why did you choose to send Zoe to campusNYC in the first place?
Zoe has always had a love for cooking especially baking and pastry. When the camp she was supposed to work as a CIT and counselor shut down we researched if there were other opportunities in the summer. It was a no brainer that this experience would be perfect for Zoe, and being an overnight multi-week program was perfect. We only wished it were more than two weeks!
2 – How did you find us?
I had heard good things about your Chopped Junior Summer Camp experience and was so pleased to see there was a NYC camp as I surfed the internet.  
3 – How happy were you with Zoe's experience at camp?
 This was the most fabulous experience for Zoe. We all felt welcomed as a campusNYC family from day one even before camp began. There was a warmth from the Director, counselors, campusNYC Chefs, campers, and the housing staff. The combination of a full day cooking agenda coupled with various after hours and weekend activities made for an extraordinary experience and memories!
4 – what was it like when Zoe got accepted to CIA?
 Everyone was so excited…I screamed literally with joy! Zoe was accepted to all culinary schools she applied to. We couldn't have been more proud. Knowing Zoe is where she wants to be following her passion makes us extremely happy as parents, of course.
5 – Do you have any advice for parents with students who are thinking about culinary school?
Focus on the culinary school that is right for your child and don't listen to everything others tell you. Be sure to research other chefs and educators that are a part of the school. It is not necessarily about how many 'famous people' went to that school but more importantly how they prepare your child. Also very important is to understand how that school will start immediately preparing your child for the work force – internships and full time employment. Make certain that you prepare for the financials; it will be close to other private school costs so plan ahead.
6 – do you have any thoughts for other parents thinking about sending their child to campusNYC?
If you can afford to do it – sign up now! It will be the best gift for your child. I highly recommend the full overnight experience – campers get to know one another, have a real collegiate experience, and spend more quality time with everyone. – Kymberly