Welcome to the culinary summer camp NYC loves!
"I liked when we went to Broadway because we all went back to the dorms to get all dressed up." – 2019 student

"You all did an amazing job keeping us safe, entertained and happy. Best staff group. Keep in touch!"
– Joey, age 13 Summer 2015 student
We have found a new location for our residential students this summer. It is by far the best dorm we have literally ever seen. The subway entrance is just outside ther front door; then it is a quick 20-minute ride by subway directly to the kitchen! The midtown location means we are literally steps from some of NYC's most famous landmarks. People say we are the best culinary summer camp NYC has ever seen! We say it's the best student dorm we have ever seen… check out the gallery.
The building: Found Study Midtown East: 569 Lexington Avenue, NY, NY 10022
Check out the location on the map: HERE:
Formerly known as the Doubletree by Hilton Hotel (and may come up on a map this way), the building was sold due to no business during the pandemic to an elite student housing company. They completely renovated the building top to bottom, repurposed many spaces, and are reaching for the high-end luxury student housing market in Manhattan. It is all sparkling, brand new and simply fabulous!
Luxury Rooms with Ensuite bathrooms
All students are housed in doubles and the rooms come fully furnished with AC, twin XL beds, smart controls, desks, dressers, refrigerator, microwave, and an ensuite bathroom. Every room has a private attached bathroom-something you won't find in most college dorms, that is for sure! And the location!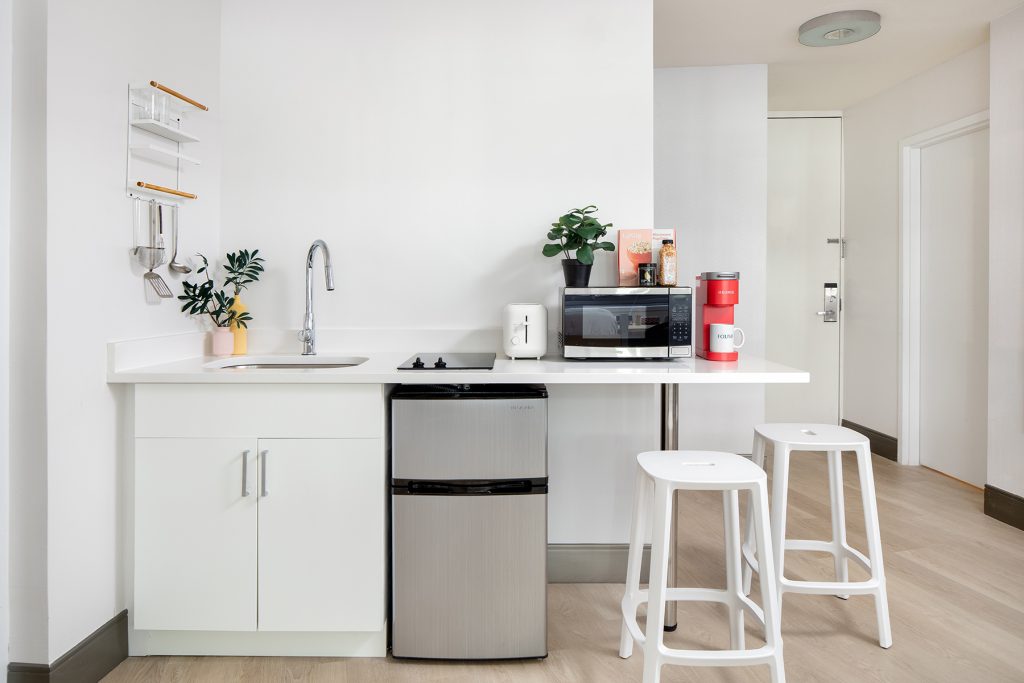 Swipe card access and 24/7 Front Desk: All access into the building is through the secure entrance of our gorgeous building. Each person must swipe in, and the front desk is staffed 24 hours a day, 7 days a week. The building is very high security and your swipe card also connects to your dorm room, the laundry facility, and all of the vending in the building (including food, games, Dyson vacuums and much more). Keep your swipe card in the cool lanyard we provide for you at check-in!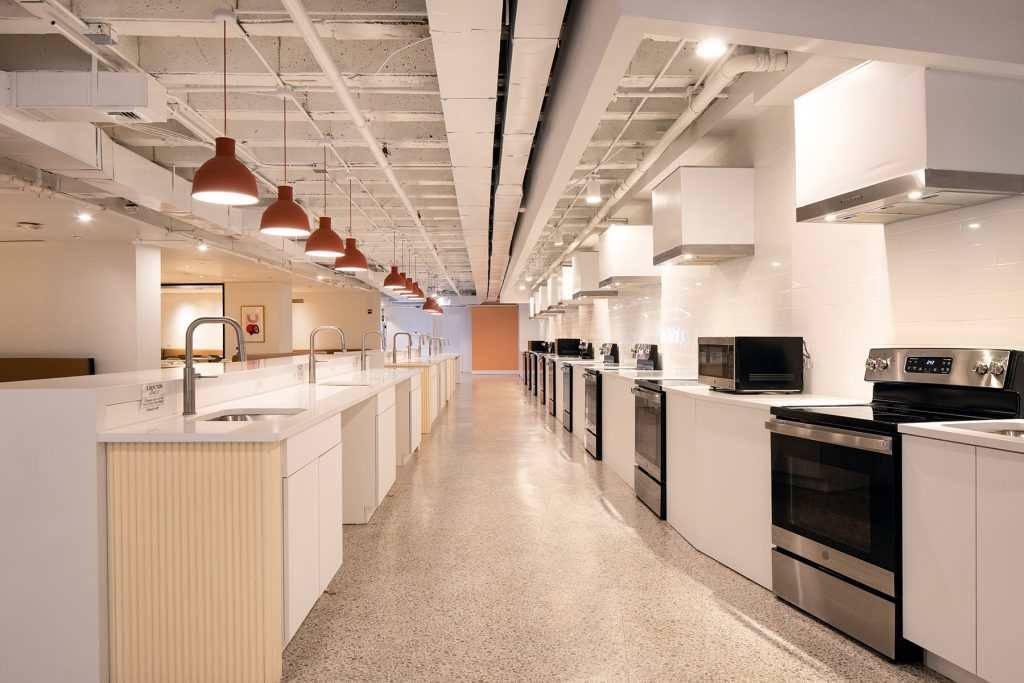 At the end of the day, sometimes we just want to mostly take a shower and hang out in the cool spots in the building. And maybe swing by Shake Shack lol.
Culture, Cuisine, and Couture
Midtown East is a great spot to call home. We are on the corner of 51st and Lex, with a subway stop across the street. So many of our favorite places are walkable! From Times Square to Central Park, and Rockefeller Center, and just… Manhattan!
Students often organize their own journeys through the city on the way home. The coolest sneaker shops in SoHo; a swing by Glossier; burgers and shakes at Shake Shack… rogue squad time!
And don't worry… students are with counselors the entire time!
Staff Supervision and Community
Staff: The residential staff includes the Camp Director, the Residential Life Director, the Health Director, and a bunch of Resident Assistants. Our context always starts with integrity and safety. Safety is always our top concern at culinary summer camp NYC!
Community: The secret sauce in our programs is our ability to create community. We call camp life accelerated… we take a bunch of like-minded teens from all over the country, all over the world, and we cook all day and hang out in the evenings! Check out our socials or watch some of these VIDEOS