Welcome to the culinary summer camp NYC loves!
"I liked when we went to Broadway because we all went back to the dorms to get all dressed up." – 2019 student
We are staying in a new residence hall this year, and we are thrilled about it!
Our residence hall this year is located in Alliance University in the historic Powerhouse Arts District of Jersey City. Right square in in an area filled with galleries, coffeeshops, specialty stores, cafes, restaurants and much more. It is cute, safe, fun, and steps to the PATH train to the Oculus. There are just two stops to get to the Oculus, which is a train hub for all of Manhattan. From there they can literally walk to the kitchen! Door to door in 14 minutes, literally.
Our residence hall features amazing open-concept style spacious rooms ranging from 1000 to 3000 square feet per room! They are huge! Each room features two private, full bathrooms, a kitchenette featuring a full-size refrigerator, sink, cabinets and a microwave.
All rooms come fully furnished with a twinXL bed, a double drawer set, a desk and chair, and a large wardrobe per student. The big rooms can hold up to 6 students, and they can arrange all of their furniture as they want. We set up each room the way we think will work, and, roommates can collaborate to re-arrange to their hearts content!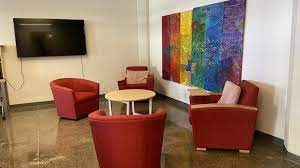 High security: Swipe card access only to enter building and a front desk staffed 24/7: 
All access into the building is through the secure entrance of our gorgeous building. Each person must swipe in, and the front desk is staffed 24 hours a day, 7 days a week. The building is very high security and your swipe card also connects to your dorm room. Keep your swipe card in the cool lanyard we provide for you at check-in!
At the end of the day, sometimes we just want to mostly take a shower and hang out in the cool spots in the building. And maybe swing by Shake Shack lol.
"Sounds exciting! As a family who knows NYC commutes very well from when we lived there, we understand how much easier the commute will be from the dorm in Jersey City to the Kitchen (versus from the Upper East Side)."

-2023 Parent
Culture, Cuisine, and Couture
Our location near the Oculus connects us to basically every subway line, so we can literally zip all over NYC in search of whatever exciting destination we have planned! We are really excited about how this location will make travel so much easier for our students.
Students often organize their own journeys through the city on the way home from the kitchen. The coolest sneaker shops in SoHo; a swing by Glossier; burgers and shakes at Shake Shack… rogue squad time!
And don't worry… students are with counselors the entire time!
Staff Supervision and Community
Staff: The residential staff includes the Program Director, the Residential Life Director, the Health Director, and a bunch of Resident Assistants. Our context always starts with integrity and safety. Safety is always our top concern at culinary summer camp NYC!
Community: The secret sauce in our programs is our ability to create community. We call camp life accelerated… we take a bunch of like-minded teens from all over the country, all over the world, and we cook all day and hang out in the evenings! Check out our socials or watch some of these VIDEOS