TV-style Competition: Become a chef
At the end of each session of our programs we have a TV-style cooking competition on the last day, Friday afternoon at campusNYC and all of the Summer Culinary programs. If you watch the shows, you know what we mean!  Who will chop their way to victory this summer?  The culmination in the program allows you to become a chef for real, competing with your team.
The competition in our culinary arts summer class is all in good fun, and students are placed in teams and tasked to make any appetizer, main course and dessert using their newly honed skills. Judges can include local chefs, foodies, food bloggers, and more.  Students work in teams and choose the recipes they want to present to the judges.
Because of COVID, and space restrictions, this year we will again broadcast the competition over Zoom.  Last year we did a professional 3-camera shoot, one on the chefs, one on the students, one showing the plated food entries in close detail, and everyone's favorite kitchen cam, where our walking cameraman shows off all the kitchens and yes, we show every student!  We are parents so we know to do that!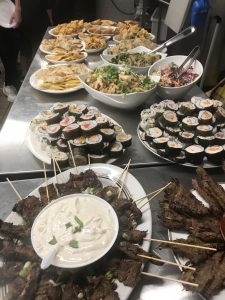 Become a chef:  choose your own recipes for the competition with your team!
Winning recipes from previous summers – all made from scratch:
Savory: Pan-seared plantains stuffed with chorizo and caramelized onions topped with avocado crema over lime and cilantro arugula
Savory: Blue-cheese butter-stuffed pan-seared chicken with quinoa and carrots drizzled with cherry-dark chocolate sauce
Pastry: Cherry clafoutis with a chocolate ganache and whipped cream garnish.  Served with lightly spiced donut with an apple filling and an apple cider glaze and fresh peach sorbet.
Note: Students come up with their own creations.  It is about teamwork and fun.  The judges sample each dish and give detailed descriptions of the good and the bad.  Then the students bring the rest of the dishes out so parents can sample.  It's super fun to watch your student present their dish – with close attention to plating and presentation – and then to try if afterwards!  Watch them become a chef right before your very eyes!
Our graduates on TV competitions:
We have had many of our students go on to appear on TV shows such as MasterChef Junior, Chopped Junior and more. This year, 5 of our graduates are competing in the Kids Baking Championship on the Food Network. We are certain our program has made a difference in preparing these students… and not all of our students are ready for Prime Time! Some of our students arrive literally knowing only how ta make Ramen. So no matter where you are, or what skills you have, we got you!
Our student surveys indicate the competition is one of the top favorite activities of the entire program! Come check out why we are sold out every year.