Choose your track: Savory or Pastry Classes by Concentration
At campusNYC, unique to all the Summer Culinary locations, we offer both savory and pastry classes as distinct tracks. So you can choose just one! Our culinary arts high school students love the depth of recipes and the skills of the staff. Our program takes place in a professional teaching kitchen with high-end equipment. We combine our top-notch culinary instruction with restaurant tours and tastes, guided visits to specialty markets and stores, and event nights designed to show our students the best of NYC.
Each day we create specific and delicious full meals with unique recipes. This is an amazing and incredible opportunity to create new possibility in the kitchen for the limited number of students we can accept. We divide the program, only in NYC, into savory classes and pastry classes.
"I love the fact that it felt like a real cooking camp rather than a camp that says "Today we are going to make chocolate chip cookies". There were real culinary skills being taught and learned (at this culinary arts high school program)." – Antoinnea, Bahamas, age 17, 2019 student
"This camp has been and always will be one of the best things I do during the summer. It is always something I look forward to and is something that I enjoy doing due to the cooking being more like it would be in a working kitchen then compared to my kitchen at my home. It allows me to grow in my knowledge and gives me the some of the tools and knowledge that I will need to go into the field of cooking. I would only miss the camp for a medical emergency or a family event, I'm not even joking, I love this camp." – William, Long Island, NY age 16, 2019 Student
PROPRIETARY CURRICULUM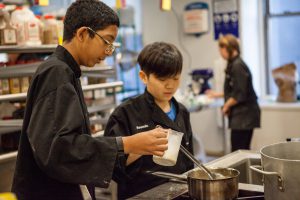 Our students here and at our other Summer Culinary Programs in Denver, Seattle, Austin, Washington DC and Los Angeles, get formal academic instruction during their kitchen time each day. This includes going through the recipes before starting; looking for areas to watvh out, tips, even protein substitution.
We also have dedicated skill-building time. We have to show you, safely and completely, how to use the flame for creme brulee or other specific skills.
We do all of this inside the French culinary-style of instruction: making food and eating what you make. Under the eyes of our trained Chef Instructors, students will make and eat their own lunches and all of their dinners. They are in the kitchen all and they love it! This enables our students to learn and get formal training on concepts, skills, and techniques:
Knife Skills and Safety
Kitchen Safety rules
Nutrition and Health
Label Reading / Deciphering
Ingredients / Substitution
Kosher, Vegetarian, and Vegan Alternatives
Food allergy awareness
This summer we have many special guests and cool demos planned.
*2023 Demos and in-class hands-on seminars:
Knife Skills: We will have formal knife skills training for all students. We want to take this opportunity to learn a life skill, and practices that make a difference for technique, skill, precision, and safety.
Sushi: Hour and a half guided tour of sushi and sashimi. What is it, how to roll it, how to cut it, what to look for, what makes a great sushi roll… what tastes the best… what looks the best… this is a very popular seminar indeed. Come hungry!
Demonstrations and Special Guests: We have had food bloggers, food photographers, and other experts talk to us about their craft and how to achieve the best possible results in all aspects (including posting awesome pictures on social media!) Pastry classes are thrilled to see the cake decorators in action! Check back or even better call or email us for the latest info on who is visiting, we are adding events all the time.
CLICK HERE TO SEE OVER 100+ RECIPES USED DURING THE SESSIONS
SCHEDULE: Savory and Pastry classes
We divide into concentrations… students pick from either our savory or pastry classes. Our one-week program focuses on full immersion and we spend all day in the kitchen. It's only one-week long, and we have a whole ton to cover, from kitchen safety and real skill building, so it is go-go-go from the first minute. Its a clean straight-forward curriculum designed to be accessible to every students, and, as always, we end every session with a TV-style competition.
---
Savory and pastry class sample daily schedule:
945am – 10am: Day student arrival
10am Residential student arrival, morning announcements, plan the day.
10:30am: Begin instruction, go over recipes, begin preparation.
12 noon: Plate and serve the lunches we made for ourselves and clean up
12:30/1 – 4:30: Create and cook entire feasts for everyone, inside our daily schedule and recipes.
4:30 – 5: Complete cooking, plate and present everything
5- 5:15: Chef taste test, comments, and debrief
5:15 – 6: Eat dinner, clean up, pack up, departure
For our residential students, a typical schedule would be:
6pm – 8/9pm: Tour NYC. We sometimes travel as a group to the best destinations, we sometimes go onRogue Squads (where the students break into smaller groups and tour individually-created itineraries, read more about that HERE). Sometimes we head back a little early because w eare hot and tired and want to enjoy the fantastic dorm! One of the nights we go to a Broadway show: we leave a little early, go to the dorm to clean up and dress up, and then it is off to Broadway!
9pm- 11pm: Hang out in the lounges, up in the halls, and other social spaces in the dorm building. Watch movies, have talent shows, sing karaoke… quality time with our new besties!
All of the evening times are approximate; times depend on that day's schedule, weather and other factors. What is certain is we have a ton of fun in the evenings!
Staff always accompany students to and from the kitchen, and to and from anywhere we go. The students never, ever, are going through NYC by themselves.
Gallery of students in both our savory and pastry classes, and food they produced!