campusNYC Culinary Summer Camps
"I just want to say thank you for everything! I loved camp! My favorite recipe was of course learning to make chocolate glazes, because I love chocolate!  Seriously though I cooked so many great recipes.  I came to learn more about making desserts and baking and I did!"  – Murphy, Summer 2016 Culinary Summer Camps Student 
RECIPE BOOK AND BINDER
Each student will have their own binder which they will bring to and from the kitchen each day.  They will be given the day's recipe in addition to any other handouts and information.  They will be able to take notes and write down anything important they will need to remember for later.  In this way, at the end of the culinary summer camps program, each student will have their own personalized and unique recipe book, with their own notes, ready to bring their new-found culinary skills home!
Last summer the binder started with 100 full, complete, distinct recipes.  And we even added some as the weeks went on!  That is a lot of cooking, a lot of learning… and the recipe book is a great resource each student gets to take home with them!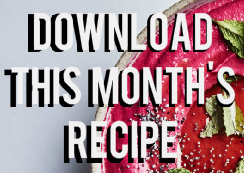 Download this month's FREE recipe and give it a try! 
June Recipe:  Chipotle Baby Back Ribs
When you are done, post it to your Instagram and Facebook feeds and tag us:  #campus_nyc and @campus_nyc
You can also email it to us and we will post our favorites!  info@campusnyc.org
April's Free Recipe:  CLICK HERE TO DOWNLOAD 
(Beet and Ricotta Hummus)
May's Free Recipe:  CLICK HERE TO DOWNLOAD
(Vegan Blueberry Lemon Cake)
RECIPES
We made over 100 recipes last summer, from countries all over the world, Cuba, Ecuador, France, Germany, Indonesia, Thailand, India, China, Japan, USA, and on and on…. all of these were made by hand, by our students, in the kitchen together from scratch!  At our culinary summer programs, we want each student to try their hand at all sorts of food, and to stretch.  Often we see students get the most satisfaction from the little things, like making a glaze, or getting a sauce just right.  Each recipe takes up one entire page and is laid out using the same format:  country of origin, ingredients, possible substitutions, directions, notes from the Chef, warnings and suggestions, and a spot to take notes.   We think it is very important for our culinary summer camps that each student take their own recipe book home, full of their own individualized notes.
PARTIAL LIST OF RECIPES IN ALPHABETICAL ORDER:
BASIL PESTO, BIRYANI MASALA, BREADSTICKS, CAPRESE SALAD, CARROT RAITA, CHAR KOAY TEOW, CHICHA MORADA, CHICKEN MILANESE, CHICKEN TANGINE, COBB SALAD, COCONUT PUTO, CORN CHOWDER WITH CRABMEAT, CORNBREAD, VARIOUS CREPES, CRÈME BRULEE, FLOATING ISLANDS (OEUFS A LA NEIGE), GALAKTOBOUREKO, GAZPACHO, CHOCOLATE GLAZE FOR ÉCLAIRS AND PROFITEROLES, GREEN PAPAYA SALAD, GULAN JAMUN, HOMEMADE CROUTONS, INDONESIAN STYLE SATAY, JAMBALAYA, KEBABS, MADRAS CHICKEN CURRY, CHENNAI STYLE CHICKEN CURRY, MANGO CHUTNEY, MANGO LASSI, MASSAMAN CHICKEN CURRY, MINT CORIANDER CHUTNEY, MUSSELS MEUNIERE, PAD THAI, PAN SEARED CHICKEN WITH VELOUTE SAUCE, PAPPADUMS, PARATHA, PASTRY CREAM, PATE A CHOUX, PITA, PUFF PASTRY, PURPLE YAM PUTO, QUICHE LORRAINE, QUINOA SALAD, RED PEPPER HUMMUS, ROPA VIEJA (Cuban), SALADE NICOISE, SHRIMP FA DIAVOLO, SPAGHETTI AND MEATBALLS, STRAWBERRY SHORTCAKES, STUFFED AREPAS, STUFFED ZUCCHINI BLOSSOMS, TABBOULEH, TAMARIND CHUTNEY, TANDOORI CHICKEN, TIRAMISU, TOTSONES WITH SALSA VERDE, VEGETABLE BIRYANI, WATERMELON ICE and much much more…..