Culinary Summer Programs
"Thank you so much for Alex's wonderful week at campusNYC! He did not stop talking about the great experience he had, and would definitely love 

to return next year.  

He especially enjoyed getting to know you and told me about all the wonderful talks you two had. I knew this program would be a great fit for him and 

I am pleasantly surprised at just how much he got out of it. He enjoyed working with the Chefs very much and made friends with many of the other campers. 

He is looking forward to coming back next year and said he would love to attend a two week session."

 

– Take care, 

Nadia (2018 Parent)

"My favorite thing about evening events was visiting Chinatown and Little Italy because we get to see different ethnic cuisines and diversity." – Olivia, Summer 2017 student
Tuition:
2 week residential program: $5995
2 Week Day program: $3295
1-week residential program: $3295
1-week day program: $1695
Enroll by clicking here:  ENROLL NOW
2021 Session Dates: Coming soon!
(please note if you register for successive sessions as a residential student, you can stay with us for the weekend in between for FREE and we will take those students out across NYC on the Saturday and Sunday which include typically Saturday going to Coney Island and the beach, and Sunday a Rogue Squad day until the next session begins!)
Residential Program Includes:  
Breakfast, lunch and dinner
A room in our residence hall (which is air-conditioned, secure, and very luxurious)
Tickets to local attractions
A Broadway show – one per session
All kitchen activities
All transportation with the staff throughout host cities on event nights
Ticket and entry fees when required on event night
Food and cooking supplies
A Culinary Summer chef's jacket with your name sewn onto it
A camp t-shirt
As much fun as we can jam out!
Day Program Includes:
 The program begins at 10:00 a.m. for day students (with free early drop-off at the dorm as usual, please contact us to make plans and coordinate schedules). The day ends at 6pm at the kitchen.  Typically our day students are often NYC-kids, able to travel through the City like pros and can handle themselves appropriately and safely.  But your family may not be typical!  We are happy to help.  Just contact us!
Day students' tuition includes:
Lunch and dinner and all coursework
Food and cooking supplies
A Culinary Summer chef's jacket with your name sewn onto it
A camp t-shirt
And as much fun as we can jam into the culinary summer programs!
About campusNYC and Enrollment Details:
 Enrollment process:
Admission is rolling and subject to closure upon the program reaching maximum enrollment. We do not require letters of recommendation, transcripts, essays or pictures of previous culinary masterpieces. Applications will be accepted until a week before the program begins, or when the program fills, whichever occurs first. It is recommended that students enroll as early as possible to reserve their space at our premier culinary summer program.  Check our FAQs or call us for further answers!
Enroll by clicking here:  ENROLL NOW
Payment Plans and Cost Structures:
We know that this is expensive and not all families can make this type of payment very easily, even in one or two payments.  Our online system for payment requires a $1,000 deposit upon registration… and then you can make as many payments as you want, for any amount, as long as the program is fully paid before your session starts.  By registering, you will create a username, and you can log in and make payments of any size with no additional fee.  We have some families pay all at once; others do 100 small transactions.  It's fine; it's all good!  Just get registered before it sells out, then pay it down before the program starts!
campusNYC Culinary Summer Programs: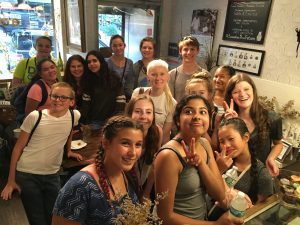 Non-refundable Deposit:
A non-refundable deposit of  $1,000 is due at the time of registration.  This deposit is included in the total tuition.
Stay for more than one session:
Students who stay for more than one session must pay for the standard fare both sessions, as there is no discount built in for multi-session attendance.  However, we will host the student between each session for FREE.  So when all of the Session 1 students pack up and depart on Saturday morning, our 2-session students will be sleeping in and saying good-bye.  Then, Saturday afternoon we will go and do something totally fun!  An experience nobody else gets, followed by a fun Saturday night (movie, show, concert in the Park, it all depends what is going on that weekend in NYC but let's face it, a fun Saturday night with the staff and just a small group of the most die-hard kitchen junkies… it's going to be fun!), and a sleep-in on Sunday anticipating the next 2 weeks of kitchen skill-building…. all free for students who attend more than one session as a residential student.  Students attending Session 2 may choose to continue learning in our one week program and again we do not charge for the inter-session weekend.
Optional Airport Service
We offer pick-up/drop-off service from JFK and LGA (LaGuardia) airports. Please note:  pickup / dropoff is NOT available at Newark (EWR) airport.
Arrival Day/1st day of session:  Preferred times: Arrive by 1PM
Departure Day/last day of session:  Preferred times: Depart before noon
Cost:  $95/one-way and $175/round-trip
Please contact us if you have any questions!  We have been doing this a long time and are very very good at this!
Pickup/Drop off process:  
Pickup: We will call you the night before your flight just to double confirm all of your info, and we will email you the name and a picture of the person doing the pickup so your student will know who to look for.  We will be waiting just past security in a campusNYC t-shirt with a big sign with the student's name and campusNYC logo.  Of course we will call you as soon as we have effected pick-up!  We will then help get any baggage, load in to a professionally-driven transport, and  escort the students personally directly to the residence hall.
Drop off:  We will leave the dorm in plenty of time to get students to the airport.  We will help them to get checked in, drop baggage (don't forget to pre-pay any baggage fees!) and then escort student to security.   We typically leave one staffer at the airport until all flights have gone wheels-up, so that in the case a flight is cancelled, we can be right there to help re-book, or even return to the dorm as necessary.
Students can choose either one- or both-ways pickup/dropoff service.  Please email us your student itinerary and receipt from the airline as soon as you have it.
Please note:  We cannot accept students a day early or keep students a day late as we do not have access to the residence hall and rooms at that time.  Please let us know as soon as you can your flight plans!
Call us if you have any questions about the flight pickup and dropoff program.  International students may find it easier to email us.
Registration Deadline:
Registration update:
Registration is rolling and closes 4 days before the start of each  session on a space-available basis.
*Any registration received after June 15th must be paid in full and there are no refunds issued to any registration after June 15th for any reason.  Please call us if you need additional information or an exception to the full-pay-at-one-time requirement.*
Refund Policy
On or before June 15th all tuition, including additional optional charges, for culinary summer programs will be refunded excluding $1000 non-refundable deposit.
After June 15th, no paid tuition, including additional charges, for our culinary summer programs will be refunded for any student who withdraws or is dismissed for any reason.