Culinary Summer Programs and Cooking Camps: NYC 2023
---
2023 dates:
Session 1: June 25th – July 1st
Session 2: July 2nd – July 8th
Session 3: July 9th – July 15th
Session 4: July 16th – July 22nd
Session 5: July 23rd – July 29th
Session 6: July 30th – Aug 5th
Session 7: Aug 6th – Aug 12th
Tuition:
1-week residential: $4495
1-week day student: $2395
Register Now! Click Here
---
DISCOUNTS: MULTI-SESSION and SIBLING DISCOUNTS:
Multi-Session and Sibling Discount: 10% off the total tuition if you register one student for two or more sessions of your choice.
The system will automatically add the discount at check-out.
Residential Program Includes:
Top culinary program in a pro kitchen with pro chefs from M-F 10am – 6pm daily, and:
Breakfast, lunch and dinner
A double-occupancy room in our residence hall:

Found Study Midtown East, located at 569 Lexington Avenue in New York City. See more about this fabulous residence HERE.
Room and building features:
24/7 staffed front desk, swipe card access, swipe required
Air-conditioning, smart controls and app
Ensuite full bathroom, with sink in separate alcove
fridge, microwave, twin XL bed, closet and desk per person
smart laundry, workout facility, several lounges, media room, game room and more
smart vending:

Touring, travel and fun / attractions in the city
One fantastic evening excursion: we go to a Broadway Show every session! Shows vary each week.
All kitchen activities and supplies
All transportation with the staff throughout host cities on event nights
Ticket and entry fees when required on event night
Food and cooking supplies
A campusNYC chef's jacket with your name and camp logo embroidered onto it (nice!)
A camp t-shirt
As much fun as we can jam out!
A 300-page proprietary digital cookbook for each student
Day Program Includes:
Professional-level cooking instruction in a pro kitchen with pro chefs from M-F 10am – 6pm daily, and:
Lunch and dinner and all coursework
Food and cooking supplies
A campusNYC chef's jacket with your name camp logo embroidered onto it
A camp t-shirt
And as much fun as we can jam into the culinary summer programs!
A 300-page proprietary digital cookbook for each student
Note for all students: Personalized chef jackets are not available to anyone who registers after May 15th; these students will still receive a Summer Culinary chef jacket with our logo on it, it will not have their name due to the long process of manufacturing and ordering custom items!
---
Optional Tuition Add-Ons and Additional Fees for cooking camp in NYC:
Airport Service: Cost: $125/one-way and $250/round-trip
We offer pick-up/drop-off service from airports near our programs. Please see each individual program page for specific airports. campusNYC: JFK or LGA (note: EWR Newark is not offered)
Please contact us if you have any questions! We have been doing this cooking school a long time and are very very good at this! Please note: We cannot accept students a day early or keep students a day late as we do not have access to the residence hall and rooms at that time. Please let us know as soon as you can your flight plans!
Linens: Cost: $50
Residential students who would like to rent a set of Twin XL linens from us can do so for $50. This includes: pillow, blanket, sheets, towel, pillowcase, and a washcloth.
---
Refund Policy:
We know that circumstances can sometimes change for every family. With that in mind, we have extended our deadline to withdraw for any reason until May 15, 2023.
Before May 15, 2023: you can cancel your enrollment for any reason and receive a full refund of all tuition paid or you can transfer your funds to 2024 and lock in 2023 pricing.
After May 15, 2023: no paid tuition, including additional charges, will be refunded to any student who withdraws, no-shows, or is dismissed from camp for any reason.
After May 15: All registrations must be paid in full at the time of registration.
---
Student Safety, COVID, Vaccinations, and more.
UPDATED: January 26, 2023
First and foremost, we are committed to student safety. Our summer programs must follow all university and venue guidelines, as well as any city state or federal laws, and that includes COVID policies, which continue to evolve.
At campusNYC, proof of COVID vaccination is required by both our kitchen and our residence hall. We do not expect that to change in our NYC program; you can find non-vaccine-required Summer Culinary programs in campusDEN and campusATX at our other Summer Culinary programs. We will update this page if policies change in the lead up to camp this summer, and we will be in communication with our registered families as we get closer to camp if needed or if anything changes.
Summer Culinary successfully held our summer programs in person, and on-campus, in NYC in 2021 and 2022.  We will continue to monitor the situation related to COVID, along with the evolving public health guidelines and best practices related to hosting events and residential summer programs in 2023.
---
Payment Plans and Cost Structures: We can work with you on your payment plan. Enroll by paying the $1,000 deposit; after that we allow you to pay as much as you want, whenever you want, with no additional fee as long as the program is fully paid before your session starts.
Enrollment process: Admission to our cooking school is rolling and subject to closure upon the program reaching maximum enrollment. We do not require letters of recommendation, transcripts, essays or pictures of previous culinary masterpieces. Applications will be accepted until a week before the program begins, or when the program fills, whichever occurs first.
---
Waitlist and sold out session status at our culinary summer programs in NYC: 
We have been sold out, with a waitlist, for the last 2 summers, and before COVID, and basically every summer before that. So if you have a young chef and this program speaks to you and your family, please register while you can!
Want to check if a session is sold out? Check the register now button (HERE) and look for your session and type, if it is sold-out it will say so; there will be easy to spot the waitlist sign-up. We will update this website with that information from time to time; the best information is found in our reg system.
Sessions begin to sell out in March.
---
ZOOM Q+A Information Sessions:
For interested parents before camp: From time to time we will offer Zoom session to inform families about the program, meet staff and answer questions. Sign up for our mailing list and free recipe program to be sent the info automatically! Join the list by clicking HERE.
For enrolled families: As we get close to camp we will offer Zoom sessions just for registered families to meet and greet and answer questions. We will email you about this in the late spring.
"Actually, thank YOU! That parent info/Q&A was the first time in two years that I have left a "school meeting" feeling more positively about a program. In any event, my thanks to you and your colleagues for the bright spot of hope. Quinn and I are both super excited for the time he is going to spend with you, and I am already hoping that future summers might include even more of it! VERY best wishes" – Elysabeth (2022 Parent)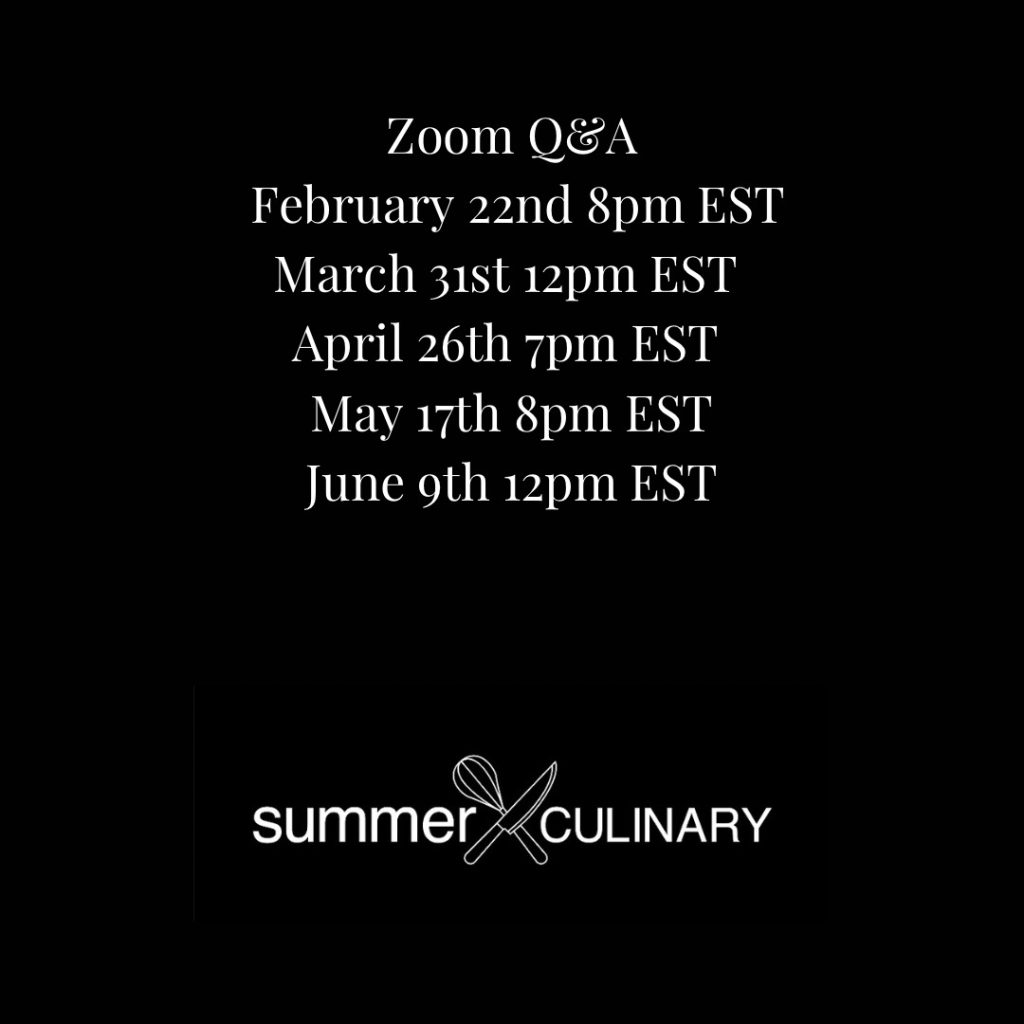 To register: CLICK HERE
Call us or email us if you have any questions about anything!
International students may find it easier to email us.
References Always Available Please Contact Us!
info@summerculinary.com