Explore NYC Cook with the Best Chefs!
Curated destinations:  One of the best reasons to attend campusNYC is the chance to explore NYC cook with the best chefs and have a blast!  Travel safely and with insiders who know just where to go and what to do.  We know all of the little parks, all the best view spots, all the coolest little shops, stores, restaurants, pizza windows, etc.  We know how and where to go when we zip all over town.  Explore NYC cook with the best chefs means just that!  We go in small groups, with all sorts of great destinations, each and every day.  Sure, we go to Times Square and SoHo and Little Italy and on and on…. but we also go to the little places most tourists will never see.  We've got a favorite rock in Riverside Park for example, that has a really cool view.  Speaking of cool rocks in parks, we know just where to go inside Central Park to get an ice cream and climb up on to those rocks and just chill out.
Foodie tours:  From the best dim sum, to the best dessert, to the single best slice of pizza ever, we work to get our students to the best foodie destinations across the city.
Broadway Shows:  During each session of campusNYC, including the one-week sessions, we take the students to a Broadway show.  Typically we go to musicals,last year we went to Beetlejuice and Waitress and usually we go to a different show each session.  Check back here in the late Spring when we start to post what shows we will go to this summer!
Rogue Squads:  Another amazing element that make campusNYC so great is our invention the Rogue Squads!  Small groups of students going with a counselor to wherever they want in NYC!  Awesome!
Click HERE to see more about Rogue Squads and definitely watch the video!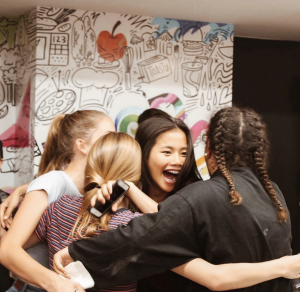 More fun in the City!